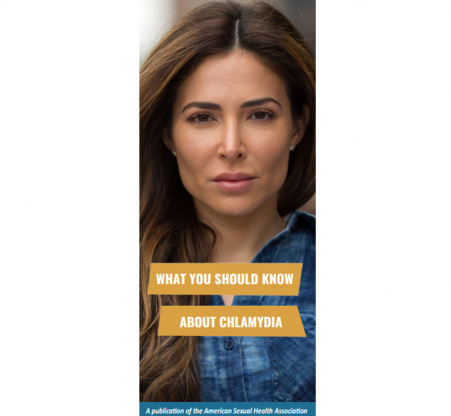 Chlamydia
What You Should Know About Chlamydia highlights the potential complications of this common, curable, but often unrecognized infection. Topics covered include testing, treatment, prevention, implications for pregnancy, and strategies for raising the subject with your healthcare provider and partner(s).
Click here to view/download a sample of this product.
Publication date: 10/18
A pack comes with 50 brochures.
If you would like to purchase more than 25 packs of this brochure, please contact ashacustomerservice@ashasexualhealth.org to discuss bulk discounts.
Quantity discounts
| | | |
| --- | --- | --- |
| 1-3 | $17.50 | |
| 4-9 | $16.00 | |
| 10+ | $14.50 | |
Product Description
Chlamydia is common in the U.S. In 2011, more than 1.4 million cases of chlamydia were reported to the Centers for Disease Control and Prevention (CDC). However, the actual number of chlamydia infections is suspected to be much higher, as many cases go unreported. Because chlamydia is most common among young women, CDC recommends annual chlamydia screening for all sexually active women under age 26, as well as older women with risk factors such as new or multiple sex partners. What You Should Know About Chlamydia can help you educate your patients about this common and potentially dangerous infection and reinforce the importance of screening.