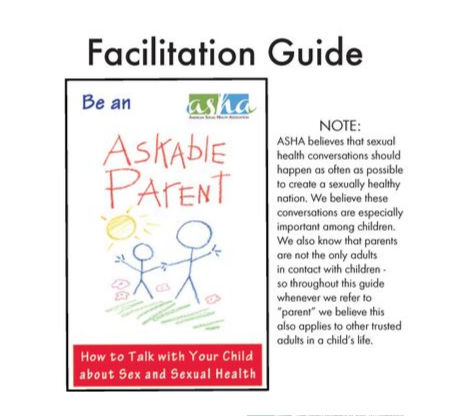 Askable Parent Facilitation Guide
Know a group of parents who are interested or willing to talk with their kids about sexual health and could use some guidance? This guide sets up so anyone can bring parents together to learn and practice these conversations!
Places where this workshop can be useful:
Schools
Religious communities
Afterschool programs
Parent-Teacher Associations
In homes among friends!
Note: This guide and the included activities are applicable and useful to any adult who has a child in their life! If you have a child in your life or know someone who does – then this workshop is for you and your community! The facilitation guide is a downloadable product.
Product Description
This facilitation guide walks the organizer through every step needed to host a successful workshop. The guide suggests an agenda with activities to spend just about 3 hours together preparing for these crucial conversations. It also encourages organizers to add or supplement what activities work best for their group of any size. The guide offers a mix of individual and group work, content review and practice. For a preview of the first few pages, click here.
ASHA suggests purchasing in addition to this guide a single Askable Parent Booklet for each participant so they can bring home this knowledge and refer to the tips as needed.